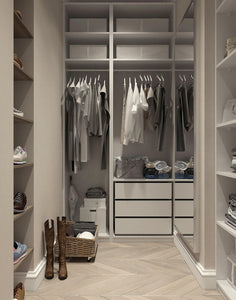 18 Closet Organization Ideas for a Beautiful, Neat Closet
The start of a new season can inspire you to make changes in your life. Maybe you're resolving to work out or start a new diet. Or perhaps you've just watched Marie Kondo's Netflix show and would rather focus on tidying up your apartment, starting with all of your clothes. That doesn't necessarily mean purging en masse — the best closet organization ideas give your favorite pieces room to breathe courtesy of pretty wire baskets, stackable drawers, and elegant racks.
Because we're not all as organizationally gifted as Marie Kondo's 2-year-old, we've put together a list to help you overhaul your wardrobe. Your delicate fabrics (and your morning routine) will be better because of it.
Use Space-Saving Hangers

These hangers take up less room and will hug even the most slippery clothes.
Stack Your Skirts and Pants
Tiered hangers will keep your pants and skirts neatly arranged no matter how tiny your closet may be.
Store Bulky Items in Boxes
Have a free space under the bed or below your hanging clothes? Use these boxes for sweaters or sweatshirts.
Invest in Open Storage Containers
Invest in Space-Saving Bags
These bags will attach to any vaccum letting you compress big items like sweaters, covats or duvets into schrunken plastic packets.
Protect the Important Stuff
Hang Up Your Scarves
Are your scarves and belts in some random tangle or precariously looped through a hanger? Use this instead.
Structure Your Underwear Drawer
These spring-loaded organizers will neatly divide any drawer so you can separate your socks from your tights and bras.
Take Advantage of Your Closet Door

Hang this up and slip in your favorite shoes. 
Get a Shoe Rack if You Don't Have a Closet Door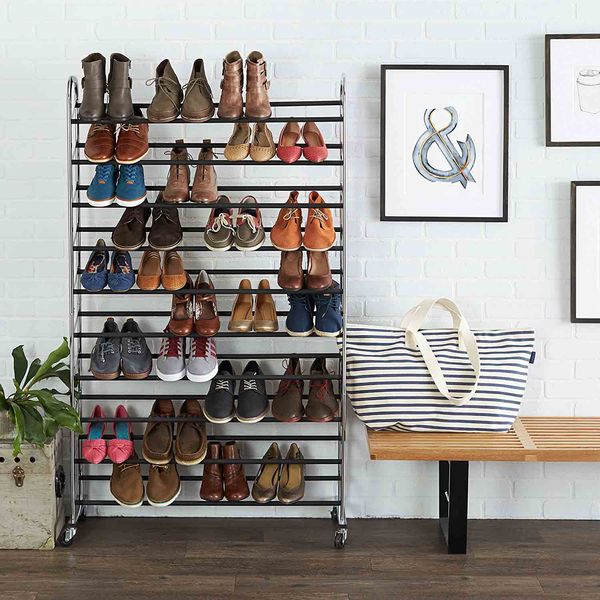 Embrace 
the fact that your collection will be on full display.
Make Baskets Your Friends (Part 1)
Use it for bathing suits, T-shirts, workout clothes, or anything else that won't fit in your dresser.
Make Baskets Your Friends (Part 2)
Since this will show off the contents more than a solid basket, use it for towels or linens.
Choose a Nice Laundry Hamper
Simple, roomy, and good-looking enough to hang out in the corner of any room.
If you do not like simple baskets you can use smart baskets in boho style
Get a Rack If You Don't Have a Real Closet


Choose the same rolling rack found in countless magazine closets.
If You Want, Make It a Fancy Rack

This is best if you're good at Kondo-ing your clothes and displaying just the bare minimum.
Keep Your Trinkets in a Tray
Or in a special organizer
Display Your Best Jewelry
Install Creative Hooks
If you can drill into your walls, a hook rack for your most-used bags and coats will streamline your mornings.
Source: https://www.thecut.com/ and By Diana Tsu @chupsterette
---